We look at the world straight in their eyes
Rottweb is inspired by lovers of Rottweilers and is dedicated to servicg the global connected community. We encourage all our visitors to contribute articles and information to help others with the understanding of this wonderful breed.
SERVING THE CONNECTED COMMUNITY OF ROTTWEILER LOVERS WORLD WIDE
SERVING THE CONNECTED COMMUNITY OF ROTTWEILER LOVERS WORLD WIDE
Sourcing for the finest German Breed Rottweilers? Please feel free to contact us in the event you are looking for a Show, Working of Pet puppy. Deborah Khan has been successfully breeding the finest German Rottweilers since 1996. Located in the Outer Banks of NC.
2011 UDC/IPO Trial supported by Tri-State Doberman Club and the Empire Working Dog Club. Judge USA/SV Carla Griffith. Deb Zappia and Dooley achieved an IPOI with a score of 271 Tracking – 80 Points High Obedience – 94 Points High Protection – 97 Points (With Pronounced in the TSB)
Rottweb magazine is dedicated to serving the Rottweiler Community through World Wide Web exposure. Rottweb provides high quality World Wide Web authoring and hosting for Rottweiler enthusiast. If you wish to talk to us about what we can do for you, call us at 252-449-0331 and join our family of Rottweiler lovers.
Rottweb is a not-for- profit Magazine and all revenues from advertising go directly to those involved in maintaining the site. We thank you for your support of this effort.
In a few words we would like to introduce our family and our kennel. The family consists of my husband Josef and the children Michael  and Margit and me.
My husband and I have been breeding Rottweiler under the kennel name "vom Wolfert Turm" since 1990. We took the name Wolfert Tower from a war memorial with a park in Ehingen on the Danube.
My husband, whose family was based in Opole, Upper Silesia, grew up on a farm until he moved to Ehingen with his parents at the age of 6. At the age of 18 he bought his first dog and he never let go of his love for these animals. When he bought a Rottweiler bitch for his work as a security guard in 1985, he was enthusiastic about this breed with its impressive shape and calm, balanced nature and decided to join the ADRK in 1987 and apply for a kennel.
The first litter was made in 1990. With the bitch Bunny vom Schwaiger Wappen. In the meantime we had 17 litters. In addition, my husband has successfully passed many different dogs for tests (BH SchH IPO ZTP and licensing).
I was born in Ehingen and also went to school there, my parents bought a boxing dog when I was 7 years old and grew up with this dog, and I got together with the dog breeding very early on.
When my husband and I met, we shared this hobby with us over the years. We founded the Rotttweiler district group ULM-DONAU with some friends in 1991, in which we are very active. In 1996 my husband was then additionally selected as the regional group breeding manager of the regional group Upper Swabia.
Our family moved to Weihungszell two years ago. There we live in a beautiful house with a large plot of land and a lot of space for our Rottweiler. My dogs all live together in a large pack and can move freely all day.
We were also able to create our own small training place there. This year we have set up a small shop for dog accessories, dog food and sporting goods. 
We are very proud and happy that our dogs were able to achieve so many top-V- ratings in these short years and have received champion titles such as German, International, Federal, World and  Club Winners.
Many of our dogs were also taken to SchH for sport, passed licensing and one of them successfully participated in the German Championships SchH and FH.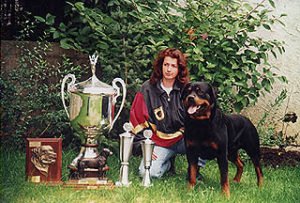 Our goal will continue to be to promote the Rottweiler breed and to breed balanced, stable and friendly dogs that come as close as possible to the breed standard in terms of form.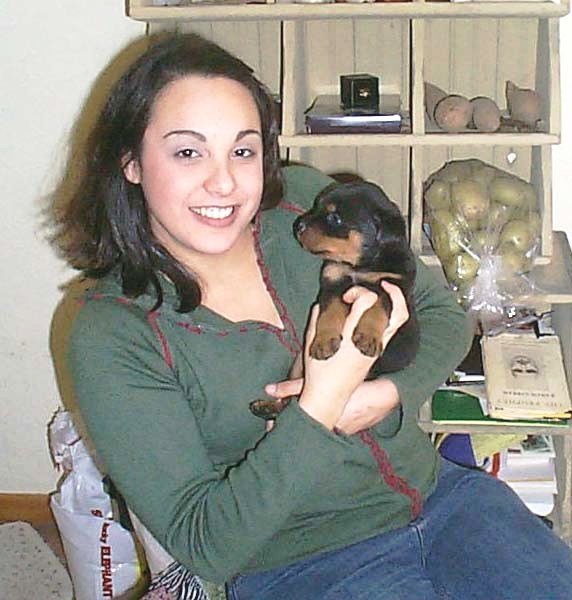 You have a Rottweiler bitch and you wants to breed her to a great important Roittweiler male with good bloodline in Germany, but you don't know how to do this.
You call us and tell us what male you wants to breed your bitch, and we make a reservation and if the bitch is in season…….
No problem, you send us the bitch, we pick her up, if it is time we bring her to the male and breed her.
The bitch stays in our Kennel the whole time, and after the breeding we send it back to you.
Let us discuss the cost of our service and let your dream become a reality.
Resources For Rottweiler Dog Parent
Rottweiler puppies rank as the 10th most popular dog breed today according to the American Kennel Club. These loving and loyal companions which originated from Germany were they were used to herd livestock and pull carts with butchered meat in the mid-19th Century, earning them their nickname ""Rottweil butchers' dogs."
The Rottweiler puppies' distinctive features are their black coat with defined rust markings. and homeliness make for a very appealing choice as a pet. They have a huge frame with muscular but compact build showing strength, agility and endurance. An average full grown Rottweiler pup stands 61 to 69cm while the weight about 40 to 50 kg.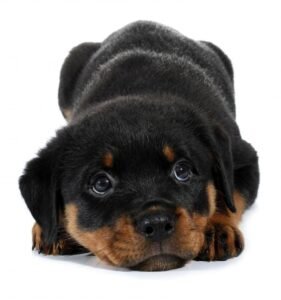 Many aspiring pet buyers are looking for Rottweiler puppies for sale because of the breed's powerful appearance which does not lack nobility and is very well suited to being a companion. Rottweilers are not only smart dogs but also physically appealing as well.
The typically good-natured Rottweiler are known to be very devoted, obedient and eager to work around people. They are self-assured, steady, fearless and react to their surroundings with great alertness. Be sure to give the rottweiler pup a workout at least two times a day.
Some may look for German Rottweiler puppies for sale due to some qualities they posses. They are generally healthy and easy to take care of. Rottweilers are now used as search and rescue dogs, as guide dogs or the blind. Some Rottweilers are also used as guard dogs or police dogs, and in other roles.
Generally alert, Rottweiler puppies have an inherent desire to protect home and family, and is a smart breed of hardness and amazing adaptability. They have a powerful desire to work, making them especially suited as a companion, guardian and general all-purpose dog.
It is also an important thing to remember in raising a Rottweiler puppy is that they have super fast-growing nails that must be trimmed regularly so that nail overgrowth can be avoided.
Rottweiler puppies require a great deal of activity that as owners, you need to keep pace with. This temperament makes them very suitable as guardians and protectors.
Known as trusted companion dogs, Rottweiler puppies are also "people" dogs and is advised to be in constant company of the owner. Rottweilers tend to follow the owner from room to room, because it prefers to constantly see its favorite person all the time. It is best to treat him as a real part of a family instead of a pet.
If you are decided in getting your own Rottweiler puppy, be sure to check a list of breeders here which currently have Rottweiler puppies for sale.
If you want to get free Rottweiler puppies instead, you may check with your local animal shelter to check for any available Rottweiler puppies for adoption. One great option to check is the American Society for the Prevention of Cruelty to Animals. This non-profit organization is dedicated to preventing cruelty to animals.While it is based in New York City, they have several adoption centers nationwide where you can visit and adopt Rottweiler puppies for free:
In New York City
Other Locations
Operation Paws for Homes, which also works to protect animals from cruelty, has offices in  Maryland, Virginia, Washington DC and Central Pennsylvania. If you want to check out Rottweiler puppies for adoption, you can read through their guide here.
Rottweiler puppies make for loyal pets. Always remember that once you get your own Rottweiler, is like having a watchful guardian family member.
For a list of top-rated dog food for Rottweiler's different health conditions, check out WorldDogFinder.com and Dog Lovers Pup's review on: